Improve Your Test Scores
Do you want to improve your English Test score for writing, speaking, reading, and listening? These private, one-on-one CELPIP test preparation classes can help.
Customized CELPIP Test Preparation
This test preparation program is perfect for you if you:
have received your results BUT haven't achieved your desired score
have a looming deadline for your application for citizenship, permanent residency, or a professional licensing body
want to improve your test scores quickly
have specific areas of weakness
need maximum flexibility scheduling each of your classes
need to target all four skills – reading, listening, writing, and speaking
are a busy professional with a hectic schedule that leaves little time for study.
How we do it
Writing Task 1
When we focus on your writing for your email, we'll help you understand what gets you a high score by comparing your writing to the CELPIP's writing requirements. We'll also make sure you understand the difference between formal and informal emails, and provide you with some useful expressions and phrases that you can use anywhere. Most importantly, you'll get some tips to help you complete your writing within the allotted time.
Writing Task 2
During your writing practice for CELPIP Surveys, we'll show you where you need to improve according to CELPIP's writing rubric and help you organize your ideas and build detail into your response. Along with that, you'll learn some tips to help you finish your survey response and still have time for that all-important editing. In other words, you'll have time left over to fix any errors and make sure you'll used lots of sentence variety.
Grammar & Sentence variety
One of the biggest hurdles to achieving your writing and speaking score is inaccurate grammar and poor sentence variety. During your classes, you'll learn the basic punctuation patterns for linking words and transitions, practice expressing yourself with a variety of sentence patterns, and increase your tense accuracy in both your writing and speaking.
Speaking Test
We'll make sure you know what CELPIP examiners are listening for in each of the Speaking tasks. During your classes, you'll practice formatting answers that score well against the examiners performance standards and discover some ways of getting over your pronunciation and intonation issues.
Listening Test
When we practice your listening, we'll check that you can spot the 3 question types that CELPIP uses because knowing what those examiners are looking for can really help you give them the right thing. During your classes, you'll practice with the Listening Practice tests that Pro-metric kindly lets us use in our CELPIP preparation program.
Reading Test
Discover some tips and techniques that can help you complete the reading test quickly. During your classes, we'll show you how to spot the three question types and find the information that the examiner wants from you. As a result, you'll be able to quickly find the answer and get that higher score. Pro-metric kindly lets us include two Reading Practice tests in our CELPIP preparation program.
If you're ready to get going with your reading practice, take a look at all these ideas on my blog for getting free reading practice!
Test Preparation Process
Typically, the test preparation process follows this path:
you send us a sample essay. If you're ready to send one now, just attach it to an email and send it to angela@ottawa-english.com
then, we analyze your submission and identify the 'factors' or areas that need work. We start with your writing because fixing writing often takes longer than fixing anything else.
next, we customize classes to tackle the identified factors. In other words, we figure out what you're not showing the examiner and help you make sure she can see it.
we meet online for the classes and work through each of the identified factors in your writing, and then identify and practice any problem areas in your speaking, listening and reading that may prevent you from achieving your desired CELPIP score.
Be prepared for lots of homework!
Course length
The number of classes you need to take will depend on how many factors we need to address and how quickly you gain mastery over them. Typically, if you're only one level away from the score you need to achieve in one skill, it takes 6 classes.
However, if you take longer to gain mastery, are more than one level away from your desired score, or need to work on different factors in both speaking and writing, you should expect to need more than 6 classes.
When we've assessed your submission and how many factors you need to work on, we'll give you a rough idea of how many classes you need.
Packages and Pricing:
6-hour package
$280/6 hours
10-hour package
$360/10 hours
20-hour package
$700/20 hours
Speaking Test Practice
Are you feeling nervous about the speaking portion of your upcoming test? Are you dwelling on things that may not affect your score?
Speaking test practice is all about building your confidence before your test. In other words, we'll tackle those barriers and put them in perspective so that they don't stop you from doing your very best in the test.
Typically, these practice sessions only include a minimum amount of review.
Some students book these practice sessions right before they go into their test so that everything is fresh in their minds when they start speaking to the examiner.
CELPIP Writing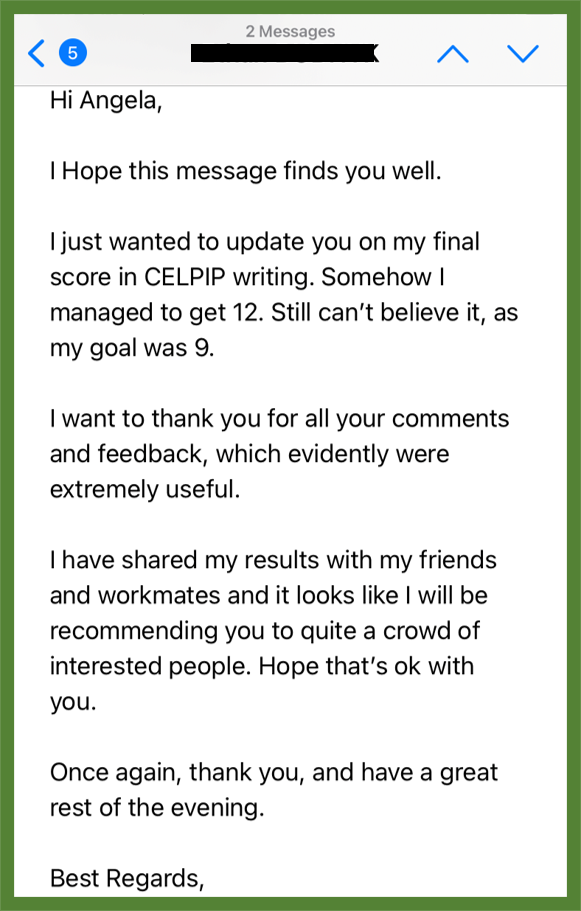 CELPIP Speaking
More Speaking Practice
You can also get more free practice speaking English in our free English conversation classes. Each week a small group of four students with a similar language level chat about a specified topic.
During these conversation classes, you'll learn lots of vocabulary and get plenty of practice speaking English and, as we all know, every little bit helps.
Just choose your topic and send me an email explaining why you would like to join this conversation group and why this topic in particular interests you. After that email, I'll gauge your level and slot you into a group that has a similar standard of English.
And remember, I've written two books full of speaking topics to help you prepare for your test and practice speaking about lots of different things as you build your vocabulary.
Please call, text or email me to talk about your test preparation requirements, package preference, and payment options. 613-614-6464 angela@ottawa-english.com
Please call or text 613-614-6460 for more information