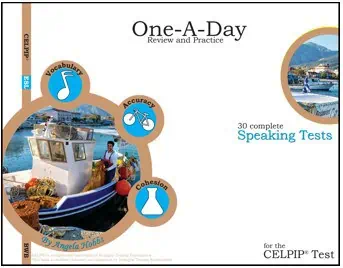 Book $29.95
pdf $15.95
pdf $15.95
CELPIP Speaking Questions
This CELPIP Speaking Questions pdf workbook contains 30 full speaking practice tests. It is also available as a CELPIP Speaking Questions pdf.
Each test has 8 questions:
Provide advice
Talk about a personal experience
Describe a picture
Predict events
Be persuasive
Deal with a difficult situation
Provide an opinion
Describe an unusual situation
We developed these CELPIP speaking questions to give our students lots of practice responding to the eight questions in the speaking section of the CELPIP test.
This book will help you develop your responses to the questions and will help you improve your vocabulary before the test.
The Topics in this CELPIP Speaking Questions workbook include: transportation, everyday situations, government responsibilities, food, education, entertainment, recreation, shopping, people, places, art, clothes, computers, etc.
How to use the CELPIP Speaking Questions Workbook
At the end of the book, you'll find sample answers to the questions in the first test. These will give you an idea of how to structure you response to questions 1-8.
Working through the book at your own pace allows you to focus on specific vocabulary that may come in very handy when you get to the test. Make a note of any new words and phrases and then learn them. Take them with you as you go for a walk around the house or through the park and use them to describe the things you hear, smell, taste, feel, and touch. By doing this, you make these new words and phrases your own and it becomes much easier to retrieve them when you need them in the test.
There are many ways to practice your responses, but one of the best is to talk to a mirror while recording your responses. That way, you can listen to your presentation and identify any word endings that you may be missing – often those missing word endings result in a lower test score. Firstly, listen for tense endings on words, especially that third person 's'. Secondly, listen for plural noun endings. Thirdly, listen for missing verbs, particularly with tenses that use participles. And finally, listen for errors that you know you have a tendency to make!
How to get Feedback on Your Responses
If you've recorded your responses and would like some feedback about what you're doing well and what you need to work on, please submit them to our Speaking Correction Service.