Read and Understand the Question
Before you start writing your CELPIP Request Email, you need to identify two things:
1. Who you are writing to.
Who you are writing to dictates your level of formality. If you're writing to a friend or family member, your response will be informal, otherwise it should be formal.
If you're requesting something from someone you don't know, your tone should be formal. That means using full sentences, a formal salutation, and no contractions.
If you're requesting something from someone you know, your tone should be informal. That means using partial sentences, an informal salutation, and lots of contractions.
In an informal email, you must use contractions. Write 'it's' not 'it is', write 'won't' not 'will not'.
Use the informal form of words. Write 'kids' not 'children', write 'happy' not 'delighted'.
2. What you are writing about.
Make sure that you have understood and internalized the question. It often helps to imagine yourself in the situation and express yourself in much the same way that you would in your own language.
How long should my response be?
As part of familiarizing yourself with the request email in CELPIP Writing Task 1, you need to know how long your response should be and how much time you have to write about it.
You have about 30 minutes to complete your response, and you should write about 150 words.
Try to keep your word count around 150 because being able to express yourself efficiently is part of the test. In other words, you should be able to say everything you need to say in within that word limit. The examiner won't penalize you if you need a few more words, but if you write a lot more, your examiner will question your ability to write efficiently and your score will drop.
"…When I started class with Angela, I was so confused. I understand much better now…"
To get an idea of your score, please paste your essay into the comments box below.
If you would like detailed feedback, please submit your response to our writing correction service.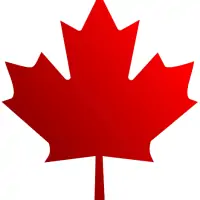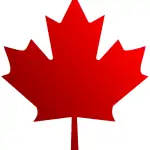 CELPIP Request Email
When you prepare your response to either of the CELPIP Writing Tasks, your focus should be on writing well, expressing yourself efficiently, and ticking the examiners boxes.
Your examiner will be looking at your organization, cohesion, vocabulary, punctuation, sentence variety, grammar, and tenses.
Below, you'll find some tips for your CELPIP Writing tips for a request email, but if you need more help please talk to me about tutoring.
A Typical Request Email Question
The Request question asks you to write a formal or informal email asking someone for something. You may write to a friend, family member, co-worker, boss, or some other authority figure. Your request may be for time, company, money, or some other form of help.
You need to complete your response within 27 minutes and write about 150 words.
A typical request email question looks like this:
You are organizing a group trip to a museum.
In about 150 words, write an email asking for information about:
the exhibits
opening times
prices and discounts.
How to Organize your Response
Your response should have three parts.
1 – Identify the purpose of your email
2 – A description of what you're trying to achieve
3 – Some information about who you are
4 – A closing
How to Start your Response
Your request email should start with your salutation. Our request, based on the question above, is formal and addressed to a person that we don't know, so we'll start with Dear Sir.
Make sure both words are capitalized and there is a comma (,) before you move onto the next line. It should look like this:
Dear Sir,
If you were writing a request letter and knew the person's name, you would write 'Dear Mr. Smith,'. Here too, all of your words should be capitalized and followed by a comma (,) before you move on to the next line.
How to Start Part 1
Now that you've chosen and properly punctuated your salutation, it's time to tell your reader the purpose of your email.
Start a new line and say, "I'm writing to request some information about…"
Don't start your email by telling readers who you are. Typically, we expect readers to look at the signature at the bottom of the email if they want to know who the email is from.
Your statement of purpose might look like this:
I am writing to ask for some help organizing a trip to your museum.
In this sample we'll continue with a description of the information we need. For example:
I am writing to ask for some help organizing a trip to your museum. Any information, tips and suggestions that might help make the day a success would be really great. I particularly need to know about times, rates and discounts.
How to Start Part 2
Now that you've identified the purpose of your email, it's time to describe what you're trying to achieve. Here, we'll share a little about our concerns and try to get the museum to entice us with advanced information about upcoming exhibits. Hopefully, he'll also let us know about a few other things going on in the area.
We'll leave a line space and then we'll say:
Although I have been to your museum, I am a little concerned that it will not fill the whole day. With this in mind, it would be useful to know about any upcoming exhibits, their size, and when they will start and finish. Can you recommend any other attractions that might help to make the day a success? The nearer the better.
How to Start Part 3
Okay, so our reader knows we're looking for information, and he knows what type of information we need. Next we want to tell him a little bit about our group in the hope that he'll offer a generous discount.
We'll leave a line space and then we might say something like this:
My group is made up of foreign students, all under 18. I am wondering if you offer any additional discounts for students. If so, how much is the discount and how many students would need to be in the group to quality for it?
How to Conclude your Request Email
Part 4 beings our request to an end by letting the museum representative know that we're expecting a response.
We'll simply say:
I look forward to your reply.
…And on the next line, we'll sign our full name:
Yours Sincerely,
Joe Piegan
Your final response might sound like this: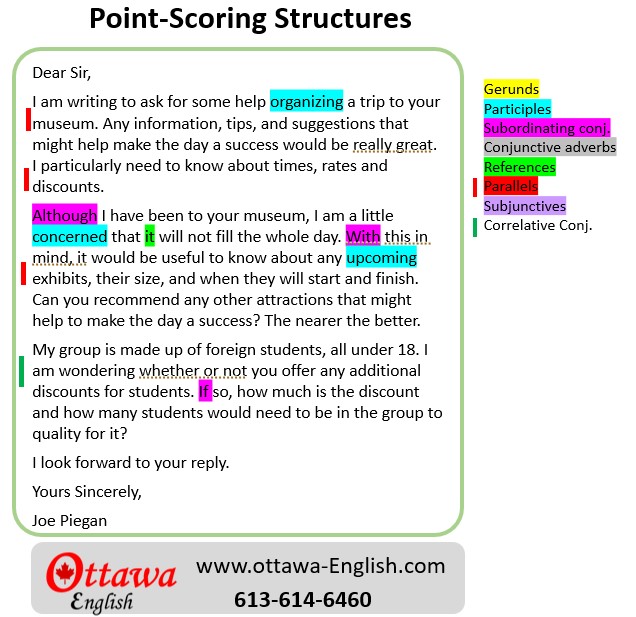 This video provides you with more tips for How to prepare a CELPIP
For more CELPIP Email Writing Samples, topics, and step-by-step instructions, please check these pages: