What is CAEL?
The acronym, CAEL, stands for the 'Canadian Academic English Language' test. It's a computerized test that test-takers can complete either from the comfort of their own homes or from testing centers. The test is owned and managed by Paragon Testing Enterprises which is a subsidiary of the University of British Columbia.
The CAEL test was originally developed by Carleton University, in 1987, as an in-house placement test in their 'English for Academic Purposes' programs. They used it to give students the opportunity to stagger their entry into degree programs when they didn't have the minimum language skills requirement for full admission. This meant that students who scored 40 or 50, could start one or two courses and still have time to work on their language skills, while those who scored 65 or 70 could take on a full course load because they didn't need as much time to work on their language skills.
Today, the CAEL test is a standardized proficiency test, just like IELTS and TOEFL, that's required for admission to many of Canada's colleges and universities. The CAEL test is also becoming increasingly popular with
When Paragon first launched CAEL, in 2017, it was only available in Canada, but it's gradually becoming globally available with ever more testing centers opening up around the world.
What is the CAEL test format?
The Canadian Academic English Language test identifies your ability to cope with the language demands of an academic or professional setting.
The CAEL test tries to integrate several language competencies into one task, so it's not testing separate skills like IELTS is. It's assessing your level of interconnected abilities by asking you to use material from lectures and readings as you prepare and deliver your spoken and written responses.
Generally speaking, the types of integrated task that you see on a CAEL test are thought to do a better job of predicting your ability to cope with the workload at an English-speaking college or university. By knowing you're ready for the workload, everything about university life becomes easier and more motivating. In particular, the testers want to see that you're able to review lecture notes and reading passages both before, and while, you write and speak.
The materials chosen for the readings and lectures are supposed to be very similar to those encountered by first-year university students.
Is CAEL easier than IELTS?
The CAEL test is topic-based. Although this confuses some people, it is supposed to reflect what university courses are like a little more realistically than tests, like IELTS, that are not topic-based.
Test-takers can perform well even if they don't know anything about the topic, but those who are familiar with topics tend to think the CAEL test is less difficult than other standardized tests.
Some test-takers struggle with the writing section partly because they don't understand the readings, but also partially because they aren't proficient when it comes to paraphrasing, summarizing, and including source information into a coherent written response.
If you find the CAEL test confusing and demotivating, please take a look at the other tests that are accepted by the institutions on your short list. Each test appeals to different strengths, and none of them should be allowed to stand in the way of your future success.
Should I take a CAEL preparation Course?
Most people who take CAEL preparation courses find that there is a mismatch between the practice they are given during their course and the final test. Typically, the practice material is less difficult than the test, and the curriculum of the different class levels doesn't match the test levels. All told, that leaves students feeling that there's a big difference between what they learn and what is tested.
How should I study for CAEL?
Typically, people with high text anxiety have worse study habits than those with less test anxiety. Therefore, the more test anxiety you have, the more time you should invest in developing your study habits and getting ready for your test.
Missing classes and rescheduling your test is likely to result in lower results. Developing your study habits and investing time in your CAEL preparation is likely to result in better results.
Copy the men in your life! According to research, men are more likely than women to have the combination of low test-anxiety and high risk-taking behaviours that produce better test results! Being alert, healthy, and calm during your test makes a huge difference.
Why do I need a good CAEL Score for admission?
In English speaking universities and colleges, the results of your CAEL test show that you are able to manage the demands of a program that is delivered in English without being overwhelmed by linguistic hurdles.
For this reason, the minimum CAEL criteria that you need to achieve for admission is fixed and non-negotiable. Prospective students, with an ideal score that matches or exceeds the fixed minimum, have a much better chance of getting a place at the university than someone with a score below the minimum fixed requirement – even if that score is within a couple of points.
Being denied admission, after you've spent all that money on submitting your application is disheartening, so make sure you check the minimum CAEL score in the university's or college's admission requirements, and then aim for a CAEL score that is equal to or higher than that minimum score.
How do they Calculate CAEL Scores?
There are two types of CAEL scores – The Overall Band Score and the Sectional Scores. The sectional scores show your level by individual skill, whereas the Overall Band Score reflects the average of those individual skills.
Both the overall band score and the sectional scores go from 0 to 90. To get to your overall band score, your examiner adds up your four sectional scores, divides by four to get an average, and then rounds your score to the nearest half mark. So, if you get 55 in reading, 65 in listening, 65 in speaking, and 70 in writing, your overall band score will be 55+65+65+70 = 255/4 = 63.75 = 65
IELTS provides a nice description of what it expects to see for each band score. The table shows a summary. This link will take you to the original descriptions.
What CAEL score do I need for Universities and Colleges?
The table on the right shows the CAEL test requirements for admission to some Canadian universities. If the university you're interested in isn't on the list, or if you're looking for a specific college please Check this CAEL webpage. That webpage provides a full list of the Canadian colleges and universities that accept the CAEL along with the minimum overall score you need to achieve.
Make sure you check to see if the college or university you want to apply to stipulates any specific section scores. Sometimes, they want a higher score in one section, and sometimes, they stipulate a minimum score for each section.
What CAEL Score do I need for Employment
When CAEL was first introduced, most test-takers were taking as a means of gaining admission to colleges and universities, but in 2020, that changed. In 2020 the number of people taking the CALE test for admission in further education dropped dramatically, while the number of people taking the test to seize employment opportunities rose just as fast.
CLB Equivalence Chart for IELTS, CELPIP, CAEL, & TOEFL
The section requirements for the overall band scores vary, so make sure you check the specific requirements of your institution or professional organization.
How do I get a good CAEL Score?
Now that you know just how and why a high CAEL score is important to achieving admission into Canadian universities and colleges, let's look at how to get that score with some general CAEL preparation tips, along with some tips and tricks for each CAEL section.
CAEL Preparation Tips
#1 Start early:
The first and foremost preparation tip for CAEL test-takers is to start your CAEL preparation early. I suggest that you start five to six months before your test. Regular practice, where you try out different kinds of questions from each of the sections, helps you understand and get used to the patterns and requirements of the CAEL test's questions. Always keep in mind that 70% of your success relies on good English and 30% relies on test familiarity.
#2 Always remember that the learning process is iterative:
Remembering that learning is an iterative process can be especially difficult for someone who has been out of school for a few years; however, you're likely to get extremely frustrated with yourself, and maybe even give up, if you don't keep the iterative nature of learning in mind.
#3 Prepare & Maintain a study schedule:
Make yourself a simple study schedule like the one below, and then stick to it. If you discover that you need more practice on something, decide when you'll practice it, and then write it down. Writing things down in a schedule helps you keep your brain clear for actual study!
CAEL Study Schedule Sample
#4 Work with a tutor:
If you struggle with self-study, sign up with a tutor. Your tutor's job is to:
Identify your weaknesses and help you strengthen them by providing practice materials, review, and consolidation
Keep you motivated
Fill in any gaps in your language skills
Provide feedback on your writing and speaking
Check your homework and provide constructive feedback
Build your confidence
Lead you to success in your CAEL test
When you work with a CAEL tutor, regardless of whether it's online or in a brick-and-mortar classroom, your job is to:
be receptive to your tutor's guidance
do your homework and be diligent about it
attend your classes and be punctual
match your tutor's effort
submit your homework leaving enough time for your tutor to check it.
#5 Practice Books:
Working through CAEL practice books is a highly effective way to prepare for CAEL. One huge benefit is that you can decide ahead of time which section you're going to tackle and then add it to your study-schedule.
There isn't a huge number of Practice books specific to CAEL preparation, but much of language improvement in terms of expressions, vocabulary, and grammar, is very similar to that offered in IELTS Academic workbooks like Step Up to IELTS, and Advanced Language workbooks like Advanced Language Practice by Michael Vince.
Advanced language workbooks target your sentence variety and language efficiency with a range of vocabulary and phrasing that can be very useful when you're aiming for a higher CAEL score.
Whenever my students have trouble with tenses, I get them to work through the appropriate tense exercises in my own One-a-Day Workbooks for Basic Tenses and Perfect Tenses. These two books also help them with vocabulary and phrasing.
#6 Use the free sample test:
CAEL's Free sample test gives you both questions and answers. That can really help you to understand the timing, format, types of passages and audio tracks, and the examiner's expectations for each section of the test.
This link will take you to a CAEL free practice test. It provides you with your reading and listening scores, and if you'd like me to give you a score for your writing and speaking, you can submit those to my writing and speaking correction service
#7 Practice CAEL Tests:
CAEL provides a series of practice test on their website that are well-worth buying and working through. Each test offers sample answers for the reading and listening sections so that you can see which question types are affecting your score and work on them. Working through CAEL practice tests helps you check your progress, understand the exam layout, and build confidence.
#8 Immerse yourself in Academic English:
Time passes quickly, and before you know it, the exam will be tomorrow. Include a little time in your study plan for news and journal articles, academic podcasts and audiobooks, and lots of writing to friends, co-workers, your tutor and anyone else you can think of who will give you constructive feedback.
#10 Develop your Visual Literacy:
Because CAEL is an academic test, you're going to need to quickly understand an informational graphic. Your 'visual' may be a chart, a table, a diagram, or a graph.
Practice 'reading' visuals until you can quickly say what it's about, identify and describe two trends, and form a coherent concluding remark.
CAEL Tips and Tricks for each section
To achieve a good overall band score in the CAEL test, you will need to score well in each of four skills. Below are some tips to help you ace each skill.
Speaking
You will be asked for a response to 5 questions. Two of these are fairly general. They're usually related to your experience in high school or your expectations of further education. Next, there's one question about a visual, one about a lecture, and one about a reading.
For each of the five speaking tasks, your focus should be on eloquent, coherent, and well-organized responses. Don't waste time trying to rehearse responses, but do invest plenty of time in preparing structured answers that have a clear beginning, middle, and end.
Reading
There are 4 reading passages in the CAEL test. One of the passages is short and requires you answer three questions in about 5 minutes. The other three passages are long and require you to answer 11 questions in about 20 minutes. For each reading passage, it is important to distribute your time between all of the questions wisely.
It's worth paying particular attention to the overview questions as these give you an idea of what you will be asked to reflect on when the time comes to provide your written response to your CAEL examiner's question about the passage.
Writing
The test requires you to complete two pieces of writing. One is a long response where you need to use the ideas presented in both a text and a lecture. The other is a short response where you present the ideas in either a text or a lecture.
For both of these written responses, don't let yourself start writing until you have planned and organized your response. These pre-writing steps are just as critical as proof-reading your response when you've finished it. Missing either step can result in a lower score than you need because, without planning, your response will be disorganized, and without proof-reading, your writing will be littered with careless mistakes.
Listening
The CAEL test has four listening tasks. One of these is short and requires you to answer three questions. The other three are long and require you to answer 11 questions. Make sure you read the whole question rather than only looking at the keywords. Good note-taking skills are critical to the listening section, particularly because you will need them when you later need to speak or write about the lecture you've listened to. During your CAEL test-preparation, try to find a balance between accurate note-taking and question responses
For many students, the hardest part about the listening to the lectures is having to answer questions about the lecture before you start talking about the lecture.
10 Key Success Strategies
Keep your answers concise. Whether you are working on a spoken or written response, make sure that you use your language efficiently
Practice using a computer. Your test will be done on a computer, so the more comfortable you are with a mouse and a keyboard, the less anxiety you'll have to work through.
Articulate and speak at a natural pace and volume. It's easy to use your phone to record yourself and give yourself a second, third, fourth, and maybe even fifth opportunity to get it right! If you have an accent that people struggle to understand, take some elocution lessons as part of your CAEL test preparation.
Practice paraphrasing and summarizing. You will need to use both.
Develop your sentence variety. Nothing screams 'Intermediate English' louder than successive sentences that all start with a pronoun. Use a wide range of vocabulary and sentence structures.
Grow your vocabulary so that you don't have to re-use the same words.
Manage your time. As your exam date gets closer, force yourself to complete your answers and responses within the given time. Until you're a couple of weeks away from your test day, don't worry too much about the timer. Learning is iterative, and with practice, you are going to speed up on your tasks quite naturally.
Leave Time to Proofread Your Written Response. By the time you get to your test, you should have a good feel for the little errors that you keep making and are guaranteed to cost you points. Leave enough time to check your work and target those little errors.
Use The Paper in Front of You. The paper that you are allowed to have in front of you is for you to take notes and write down any ideas that might help you to deliver a well-structured spoken or written response. Use it, but don't get so busy making notes that you fail to understand what you hear. Your notes should be brief and focused on keywords and ideas. They should not be lengthy and distracting
Don't waste time worrying about things you don't know. If you don't know specific words, rely on the context and general meaning of the surrounding words or paragraph.
CAEL Performance Demographics
While CAEL isn't an easy test to crack, it is possible to get your score and go on to further education or employment in Canada.
Here's a chance for you to practice your visual literacy!
The graph, using data from Paragon's test reports for 2018, 2019, and 2020, reflects the percentage of CAEL test-takers who achieved overall band scores from 10 to 90 between 2018 and 2020.
The largest percentage of test-takers were able to achieve an overall band score between 60 and 70, but very few were able to achieve more than 70.
The rapid, and very sudden, drop after band 70 suggests that test-takers who require a score above 70 would do well to consider IELTS or TOEFL.
What to do if your CAEL Score isn't good enough
So, you've taken the CAEL test and received your score only to face the reality that it isn't high enough to get into the university of your dreams, or pursue the employment opportunity you've set your heart on. What can you do?
Don't give up! There are several options.
Bad CAEL Score? Resit the test
For most test-takers, retaking CAEL is an obvious choice. CAEL won't allow you to take the test again for at least 4 days.
The staff at CAEL recommend spending more time studying if you don't get the score you need.
Often, more studying is exactly what you need, but surprisingly, there are many people who think that, if they just take the test enough times, they'll eventually get their score.
Retaking the test again and again is a very expensive proposition because, unless your language level changes, it's highly unlikely that the score that measures your language level will change either.
Bad CAEL Score? Get a Re-evaluation
CAEL charges $65 to re-evaluate each component of your test. That means that if you want a re-evaluation of all four skills, you need to pay $65 for a re-evaluation of your speaking, another $65 for a re-evaluation of your reading, another $65 for a re-evaluation of your listening, and another $65 for a re-evaluation of your writing. If you only want a re-evaluation of one skill, you only pay $65. You have to wait for 3-4 weeks to get this re-evaluation, and they'll refund the money if they change your score. They won't refund your payment if they don't change anything.
If you decide to get a re-evaluation, you can access the re-evaluation form using your CAEL account. You can only get a re-evaluation of your CAEL scores within six months of your test date.
Bad CAEL Score? Talk to the University You've Applied to
If your CAEL score falls short of your university's admission requirements, they may still accept you. Some admissions offices are flexible about your CAEL scores, especially if you have a strong professional or academic background.
Some universities may be willing to let you get started on your course provided you continue to take English classes. You may find this option is more available in universities and colleges that offer an English program.
At least, make the effort to start the discussion, you never know where it might take you!
Bad CAEL Score? Apply to a Different University with Easier CAEL Requirements
If you're unfortunate enough to have chosen an inflexible university that refuses to work with you on pursuing your dream, consider alternative universities. There is some variation in the CAEL requirement of different universities and colleges, and sometimes there are variations at the program level. IF you look around, you may find that your 'bad' CAEL score is perfectly acceptable in another place.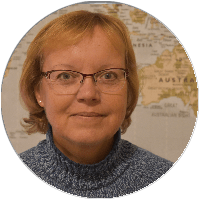 Hi, I'm Angela, I'm the author of all of the pages on this website, including this one. I hope you find them useful and informative.
I'd love to work with you if you're preparing for CAEL and need a little help. Call or text me at 613-614-6460
Bad CAEL Score? Consider an Alternative like IELTS or TOEFL
Many of the universities and colleges that accept CAEL also accept IELTS and TOEFL. Some test-takers find it easier to get their required admission score with TOEFL than with CAEL. There's lots of TOEFL Preparation material available online, and most of the studying you've already done will provide you with a strong foundation.
Conclusion
CAEL is an important exam for anyone interested in studying at a university or college in Canada, or seeking employment in certain professions. Achieving an ideal score of 60 or above as your overall score enhances your chances of admission. Clearly there's nothing easy about the test since very few test-takers score more than 70%. Making the grade requires knowing the score that your desired institution needs to see, investing your time in consistent and systematic preparation, understanding of the test's requirements, and accessing the help you need when you need it.