This CELPIP Writing Task 2 Sample demonstrates some Tips to help you improve your score
Blend short, compound and complex sentences.
Use parallels appropriately.
Lists and series should always follow a parallel form
Punctuate accurately.
Check agreements.
The third person in the simple present tense, and most plural nouns need an 's'
Use adverbs and adjectives properly.
Adjectives describe a state.
Adverbs describe how something is done.
– decide = verb
I have decided to take the test.
– decisive = adjective
Stop changing your mind and be decisive.
– decision = noun
Jenny hasn't made her decision yet.
– decisively = adverb
Sam considered the options and then acted decisively.
Present a coherent response.
Like this CELPIP Writing Task 2 survey response, you need to make sure that your essay follows the standard essay structure.
Present a cohesive response.
Glue your words and sentences together
so that they flow.
Follow the standard format.
Take a look at these step-by-step instructions
for how to write a survey response
"…very flexible and helpful…"
CELPIP Writing Task 2 Sample
The CELPIP Writing Task 2 Sample on this page will give you some ideas
about the important things to include when you write your test.
Your examiner will be looking at your vocabulary, phrasing, sentence variety,
grammar, punctuation, and tenses.
Take a look at the CELPIP Writing Task 2 sample to get some ideas for how you might use higher-scoring in your survey response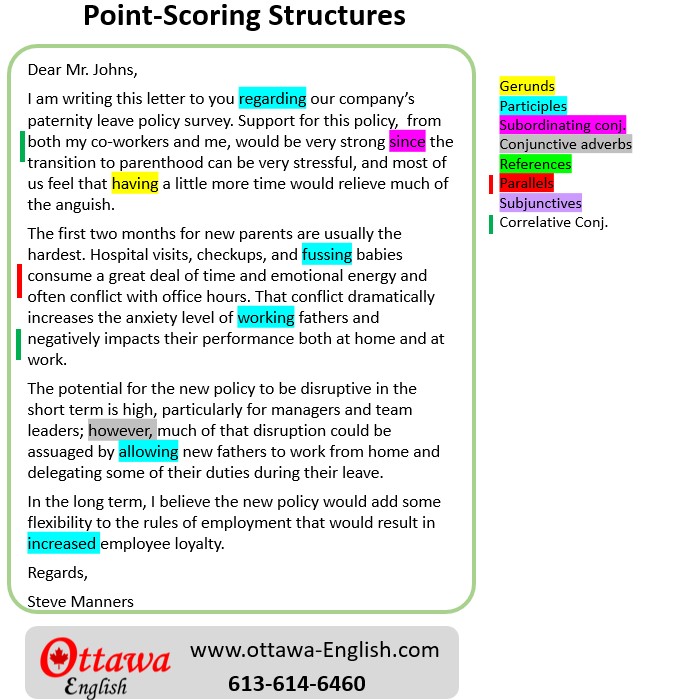 This video provides you with more tips for How to prepare a CELPIP Writing Survey Response.
CELPIP Task 2 Survey Response Sample
RE: Paternity Leave Survey
Dear Mr. Johns,
I am writing this letter to you regarding our company's paternity leave policy survey. Support for this policy, from both my co-workers and me, would be very strong since the transition to parenthood can be very stressful, and most of us feel that having a little more time would relieve much of the anguish.
The first two months for new parents are usually the hardest. Hospital visits and checkup appointments consume a great deal of time and emotional energy and often conflict with office hours. That conflict dramatically increases the anxiety level of working fathers and negatively impacts their performance both at home and at work.
The potential for the new policy to be disruptive in the short term is high, particularly for managers and team leaders; however, much of that disruption could be assuaged by allowing new fathers to work from home and delegating some of their duties during their leave.
In the long term, I believe the new policy would add some flexibility to the rules of employment that would result in increased employee loyalty.
Regards,
Steve Manners
If you've completed an essay and would like an evaluation with corrections and feedback, please submit it to our writing correction service.