CELPIP Speaking Task 8
Focus on the Situation
Just like responses 5, 6 and 7, your focus in responding to this CELPIP Speaking Task 8 should be on the situation, not the picture!
This question is testing your ability to speak about a broader, more abstract concept. Fluency levels, in any language, are measured by a person's ability to move from the tangible to the abstract in both their spoken and written language.
There are many ways of showing the examiner that you can move between abstract and tangible language levels.
One way is to relate to person about the situation. In this sample answer, we do that by talking about the cold weather.
Another way is to identify a specific abstract concept like 'disappointment' , 'frustration', 'loneliness', or despair, and then use that as the base for your response.
If I'd based this response on the abstract concept of 'frustration', I would have started my call by saying something like: "I know just how frustrating it can be to misplace a jacket when you need it most. With any luck, the time I've spent searching for it in the lost and found won't have been in vain…"
Read and Understand the Question
In task 8, the CELPIP speaking unusual situation question, you're talking to someone on the phone about a situation that you can both relate to. In this task, it's important to remember that you're not just describing the picture as in task 3. Here, what is important is that you relate to the situation as a whole and use parts of the picture to add details.
In this task 8 sample response, we find ourselves in a service position at a lost and found and have to talk to a customer about her missing coat.
The first thing we need to do is read and internalize the question to identify:
Who we are talking to.
In this sample response, we're talking to a customer as a representative of our organization. That means we need to use very polite language … and that means the tone of our response should be formal!
What we are talking about.
Make sure we understand the question and particularly the situation we're in.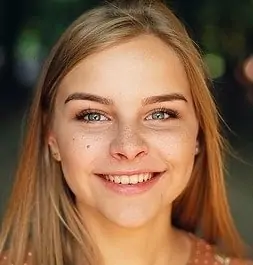 "…I got my 9, and I've completed my PR application!… Thank you Angela …"
If you would like detailed feedback on your speaking responses, please submit your responses to our speaking correction service.
CELPIP Speaking Task 8
When you prepare your response to any of the CELPIP Speaking Tasks, your focus should be on speaking well, expressing yourself efficiently, and ticking the examiners boxes.
Your examiner will be looking at your organization, vocabulary, phrasing, sentence variety, grammar, and tenses.
Below, you'll find some tips for your CELPIP Speaking Task 8, but if you need more help please talk to us about tutoring.
Read and Understand the Question
A typical unusual situation question for Speaking Task 8 looks like this: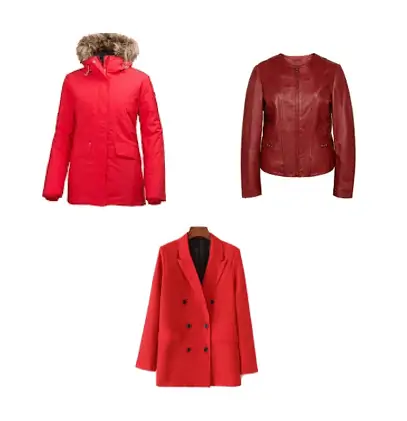 You have been asked to check the lost and found at work for a red jacket that one of your customers left behind.
Call your customer and provide her with a full and clear description of the three jackets you have found. Ask her if any of them sound like hers. Make arrangements to reunite her with her jacket.
How to Organize your Response
Your response should have three parts.
1 – Introduction
2 – Description
3 – Conclusion
How to Start your Response
When preparing for CELPIP Speaking unusual situation question in Task 8, it is important that you relate to the situation you are in and the person you are talking to.
As always, think about what you would say in your own language.
For example, your introduction might look like this:
Hi, I understand you forgot your red coat when you were visiting our offices the other day. It's getting pretty cold out, so I'm sure you'd like to have it back. I have three red coats here in the lost and found. Let me describe them to you, and then you can tell me if any of them sound like yours.
How Long Should my Response Be?
As part of familiarizing yourself with the opinion question in CELPIP Speaking Task 8, you need to know how long your response should be and how much time you have to talk about it.
You have about 30 seconds to prepare your response, and 60 seconds to talk about it.
You must finish within those 60 seconds, so it's a lot easier to get everything in and get a good score if you follow a basic format.
How to Approach your Description
With your introduction complete, the next thing you need to do for this question is describe the three coats. Since we've introduced the cold weather in our introduction, we'll relate each of the coats to their level of warmth.
For example, it might sound like this:
The first one is quite a warm one because it's made from a heavy material. It's a medium length coat with a zip from the bottom to the top. It has a hood and a fur trim as well as pockets.
The second one is more of a light-weight, short, leather jacket. It also has a zipper, but it doesn't have any type of hood or even pockets.
The third one, a medium-length coat, is the most formal of the three because it has a collar, six black buttons and pockets, but it doesn't seem particularly warm.
How to Approach your Conclusion
After our our description, we're ready to make a concluding remark. We'll take this opportunity to relate to the situation and ask our customer about her preference for being reunited with her coat.
It's critical that you finish this before your time runs out!
For example, the conclusion might sound like this:
Do any of them sound like your coat? Would you like to pick it up, or would you like me to have it shipped to you?
Your final response might sound like this: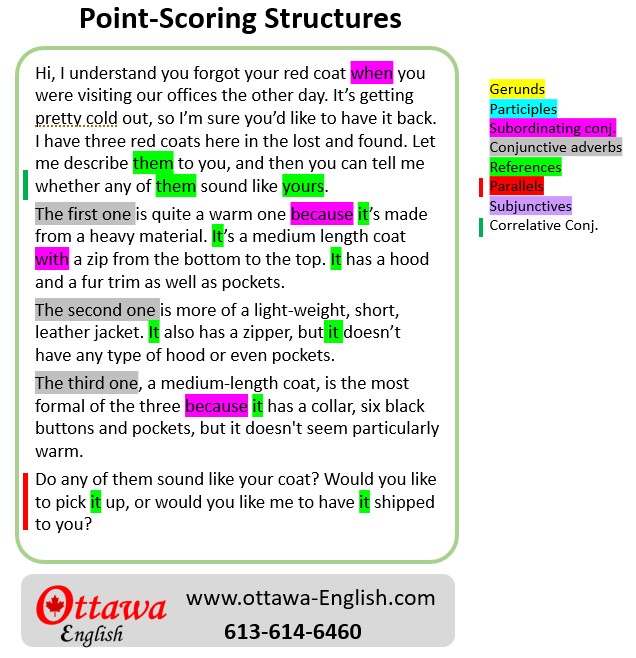 For more step-by-step instructions for CELPIP Speaking Tasks 1 to 8, please check these pages: