CELPIP Speaking Task 6
Focus on the Situation
In CELPIP Speaking task 6, keep in mind that your being asked to 'deal with a difficult situation'. That means that your examiner wants to hear you talking to a person about more than just what you see in the question.
In our example, we deliver a fully developed situation by talking about the ongoing impact that the perfume has been having on our friend along with the ways he has tried to manage his reaction to it.
Read and Understand the Question
In task 6, the CELPIP speaking difficult situation question, you're using your most diplomatic language to mediate a situation between two people.
The question askes you to choose one of two people and persuade them to change the way they think about something or behave in a given situation.
Start by reading the question carefully and making sure you understand what you are being asked to do.
Identify:
Who you are talking to?
If you're talking to a friend or family member, your response will be informal, otherwise it should be formal. Most of the time, you'll likely be mediating between people you know, so an informal tone will be appropriate.
What you are talking about?
Make sure you understand the situation that these people are in and the reasons behind their behaviour.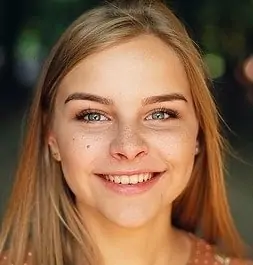 "…I got my 9, and I've completed my PR application!… Thank you Angela …"
If you would like detailed feedback on your speaking responses, please submit your responses to our speaking correction service.
CELPIP Speaking Task 6
A typical difficult situation question looks like this:
One of your friends has started wearing a strong fragrance that your roommate finds offensive.
Choose One
Talk to your friend about his/her fragrance choice.
Or
Talk to your roommate about possible solutions.
How to Organize your Response
Your response should have four parts.
1 – Introduction
2 – First main idea – the problem
3 – Second main idea – the impact of the problem
4 – Conclusion
How to Start your Response
When preparing for CELPIP Speaking Difficult Situation question in Task 6, it is important that you understand how to formulate your introduction. Your introduction should paraphrase the question so that the examiner knows what you are talking about. This is also where you should check with the person that they've got time to talk to you about this situation. In the exam world, they'll be ready to chat, but in the real world, they might be in the middle of something. Asking them if they can focus on this situation for a moment, makes your response sound more natural.
As always, think about what you would say in your own language.
Your introduction might look like this:
Hi Janet, I need to talk to you about this new perfume you're wearing because it's causing me problems with my roommate, Jack.
How Long Should my Response Be?
As part of familiarizing yourself with the difficult situation question in CELPIP Speaking Task 6, you need to know how long your response should be and how much time you have to talk about it.
You have about 30 seconds to prepare your response, and 60 seconds to talk about it.
You must finish within those 60 seconds, so it's a lot easier to get everything in and get a good score if you follow a basic format.
How to Approach your First Main Idea
With your introduction complete, the next thing you need to do is describe the problem. In this sample response, we'll establish that my friend's fragrance has been causing an ongoing issue. We want to clarify that this isn't a one-off event.
It might sound like this:
So, apparently, Jack has been having trouble with your fragrances for a while, but last night, after you left, he came and talked to me because he was having an especially bad reaction that was affecting his breathing.
How to Approach your Second Main Idea
After we've described the problem, we'll go on to talk about the impact that the fragrance is having on my room-mates life. For this sample response, we'll provide details about what my roommate has tried to do and the symptoms the fragrance creates.
For example, the description might sound like this:
He described how his normal reaction leaves him having to open the window for several hours, even though he keeps his door closed and stuffs a towel under it to stop the smell penetrating into his room.
How to Approach your Conclusion
After we've described the problem and its impact on my room-mate, we'll conclude by asking my friend to stop wearing as much fragrance generally, and not to wear the one that has caused problems completely
It's critical that you finish this before your time runs out!
For example, the conclusion might sound like this:
Anyway, it would really help if you didn't wear quite as much perfume when you come to see me and maybe abstain from wearing the one you wore last night altogether.
Your final response might sound like this: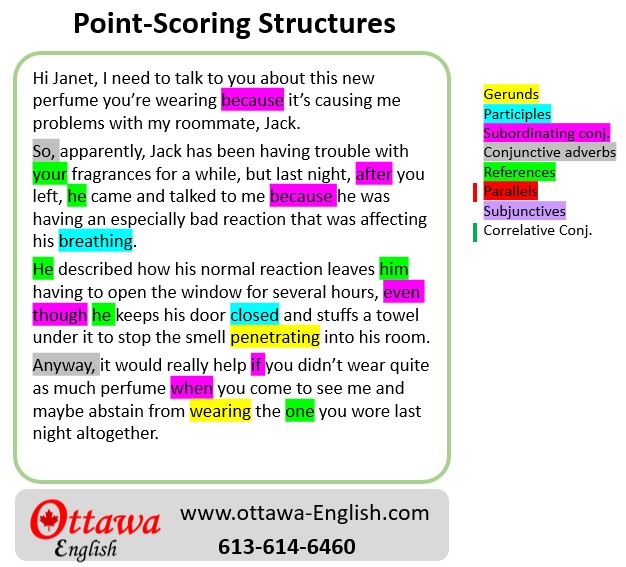 For more step-by-step instructions for CELPIP Speaking Tasks 1- 8, please check these pages: